Let's Do This: A Fuck City Mini-Primer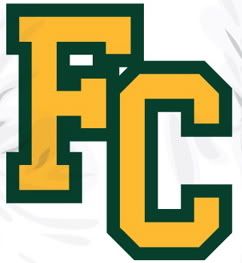 Here is a little primer for Andy Hurley's latest venture, Fuck City, since so many people seem confused about what it is and who is who now that the website is live. I'll probably do a more slash-centric one later (because OH GOD are they slashy!). Right now this is just going to be an intro/picspam sort of deal.
Pertinent links:
-
FCRecords: The Official Website
-
Fuck City on Myspace
-
Fuck City on Twitter
- On Myspace:
Andy
(private!),
Matt
,
Kyle
,
Stu
-
(The Band Formerly Known As) The Departed
This primer is IMAGE HEAVY.
Fuck City? What is the fuck is that?
Fuck City is many things. It is mainly Andy's group of friends who all live with him in at his house on Lake Michigan, just outside of Milwaukee, Wisconsin. It is also the name for said house. It is also the name of the fledgling record label and clothing line run by the group. They have a website at
FCRecords.com
. They also started a band called The Departed, but have not come up with a new name yet since they discovered that there are already about three other bands laying claim to that name. (Oops!)
More than a name for things or people, tho, the guys describe Fuck City as a mentality. A way of life. Here is their description on their website:
"fuck city is everywhere. wherever youre living, youre living in fuck city. so let's do this. because we never want to grow up. we never want to get old. so we wont. we will stay young until we die."
-------------------------------------------------------------
But why call it Fuck City?
Fuck City is a reference from the long-cancelled TV show
Arrested Development
, of which they are all big fans. On the show, a character named Gob Bluth coins the phrase to describe a community he wants to build. He starts out naming it Single City, but eventually calls it Fuck City (also Fuck Mountain):
GOB: 52% of the country is single. That's a market that's been dominated by apartment rentals. Let's take some of that market. I call it "Single City."

GOB: How do we filter out the teases? We don't let them in. This goes for the guys, too. Because sometimes the guys are tapped out. But check your lease, man. Because you're living in Fuck City!
-------------------------------------------------------------
Who are these people?
Fuck City has 5 main members, and then various and sundry hangers-on. The five main members are Andy Hurley, Matt Mixon, Ryan Morgan, Kyle Johnson, and Stu Ross. Here, let them show you who they are: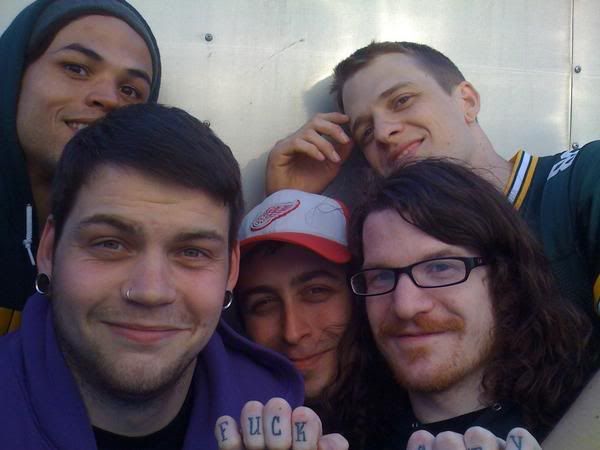 Left to right: Matt Mixon (near top), Stu Ross, Kyle Johnson, Andy Hurley, Ryan Morgan (near top).
And here they are self-labeled for your convenience: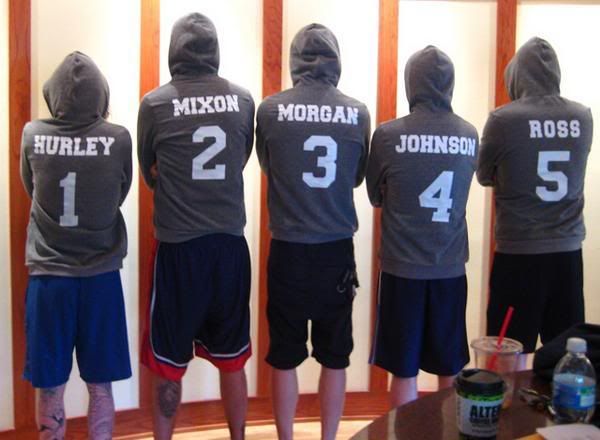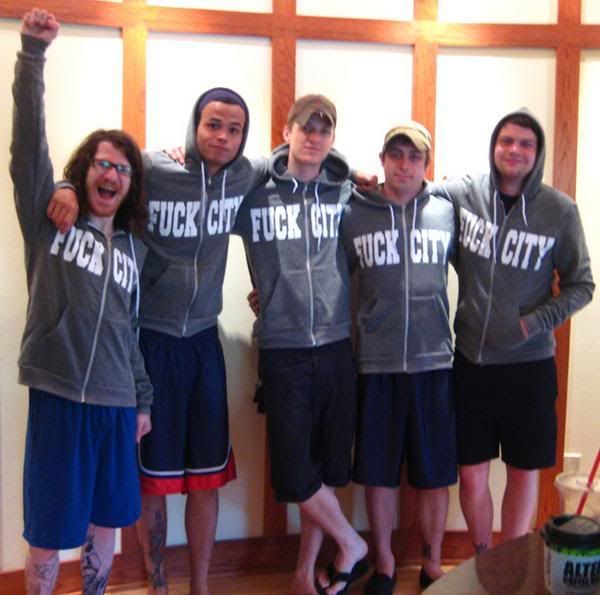 -------------------------------------------------------------
The Fuck City Cast of Characters
Here is a random collection of facts and pics of Fuck City and Friends. Most of the pics will probably end up with Matt in then due to being from Matt's
public Myspace
.
The Main Five:
Andy Hurley (aka: The Professional (Also seen as: xprofessionalx, xprox, pro, etc), Kid Millions):
Drummer for some band called Fall Out Boy. Vegan, straightedge, anarchist, and primitivist (...sort of). Enjoys getting tattoos, comic books, and getting more tattoos. WTF do I say about Andy? LOL. Everyone knows Andy already, let's have some pics:
Rawr!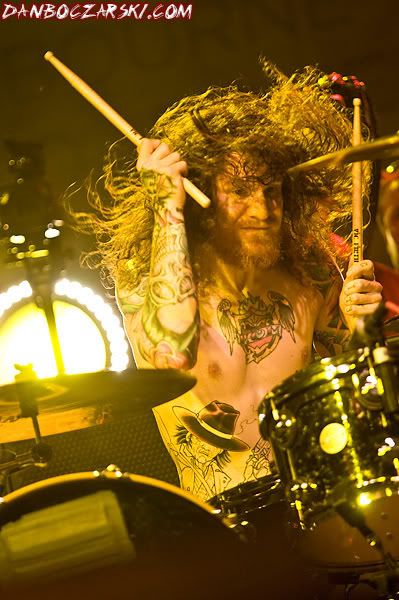 He of The Hips.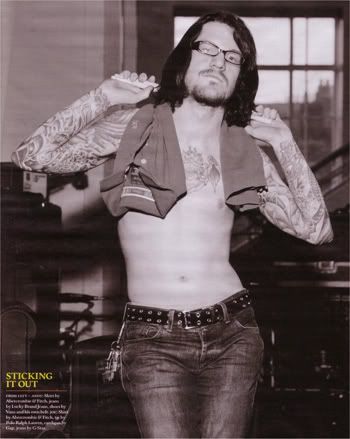 And the Tragimazing Beard.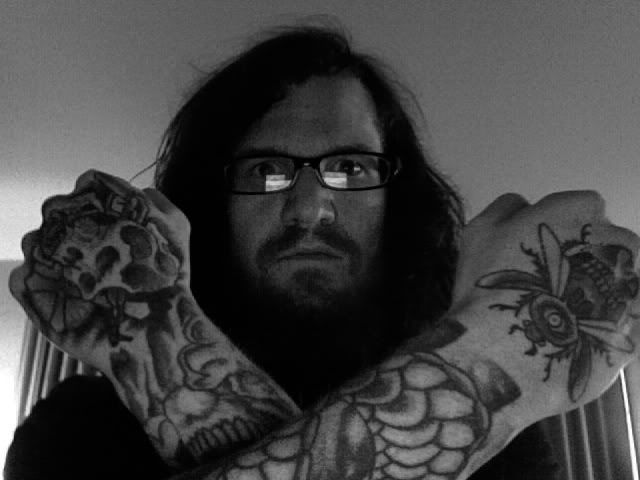 --------------
Matt Mixon (aka: Black Mixon, The Lone Wolf):
Former vocalist and/or guitarist for 7 Angels 7 Plagues and various other, smaller hardcore bands. Sometimes-straightedge. Personal motto: "Let's all just party forever."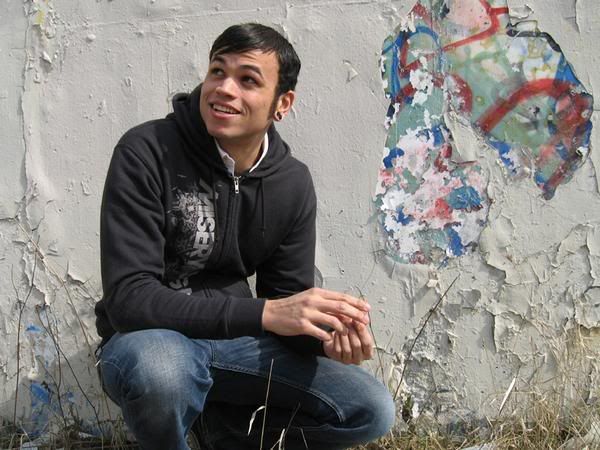 Studied broadcast journalism for a while, now works as a bartender. He tends bar sometimes at StarBar's sparkly bar (Yes, it actually
sparkles
. No, StarBar isn't a gay bar...I think).
Matt at work.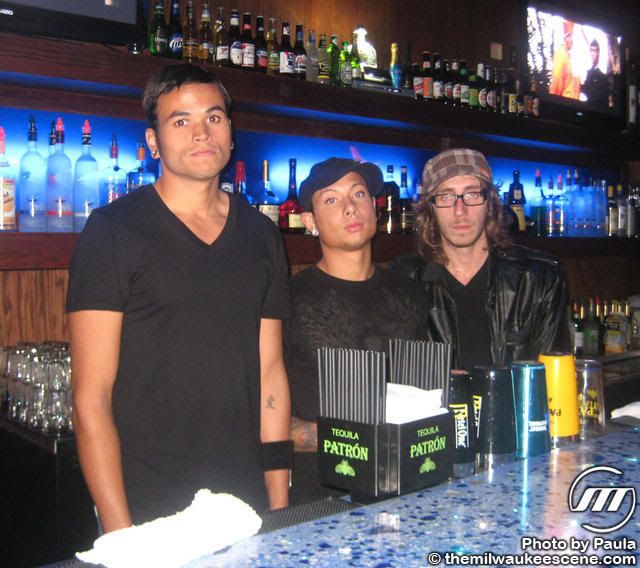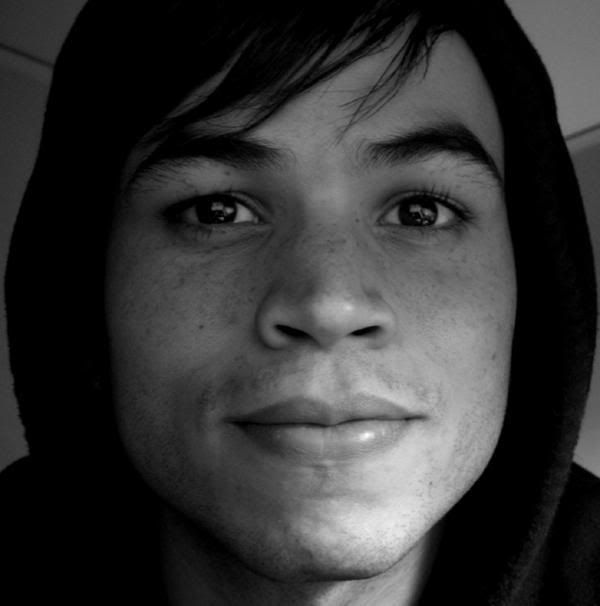 He'd either just won a cut-throat game of dollar Cee-Lo or he's a really great stripper...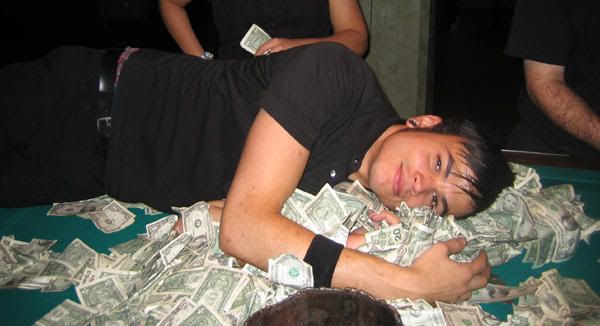 With Patrick!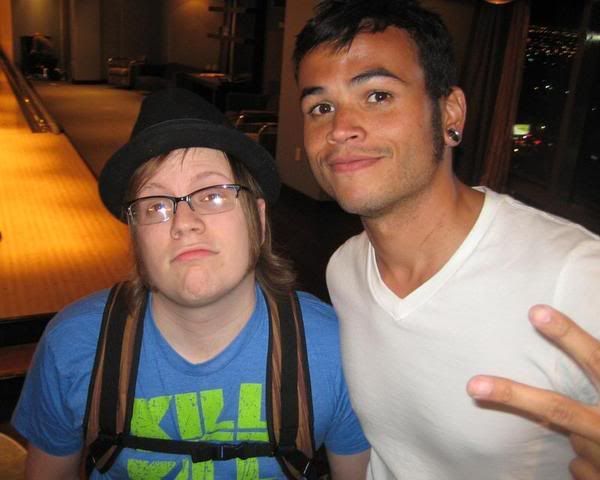 In glasses!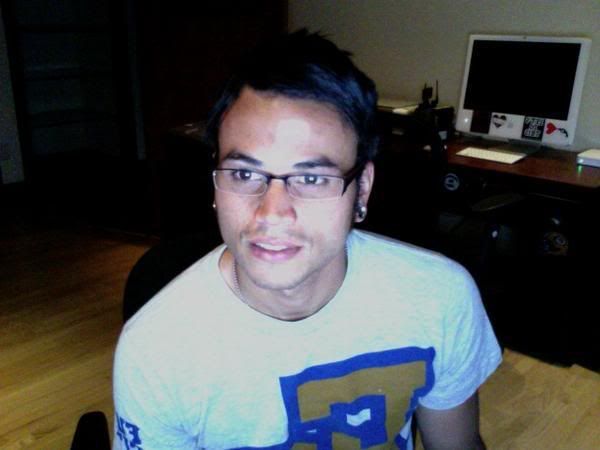 Sorry, sorry! Ahahaha. I couldn't resist.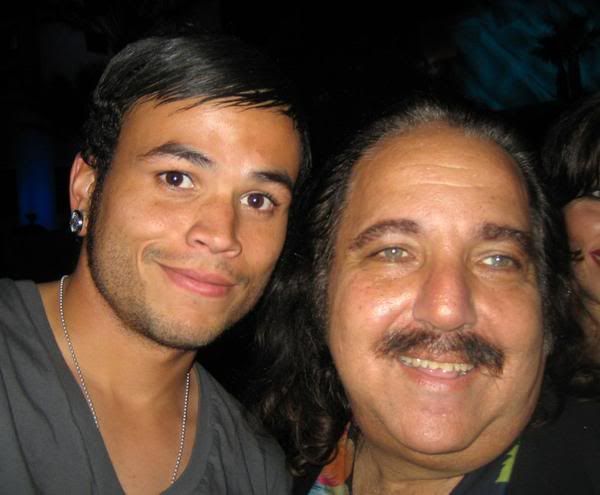 --------------
Ryan Morgan (aka: Hazzard, The Falcon, Brother Golden):
Currently guitarist for Misery Signals.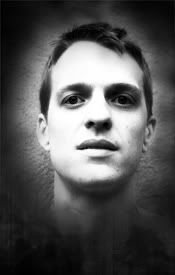 On stage with Misery Signals.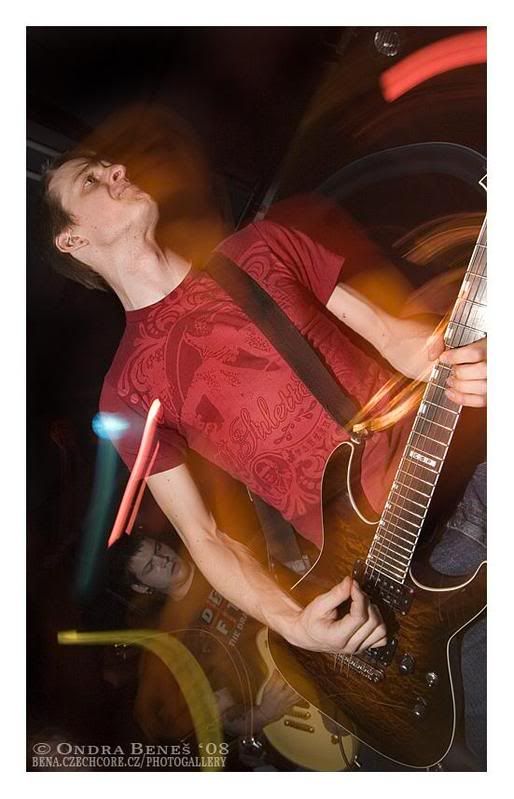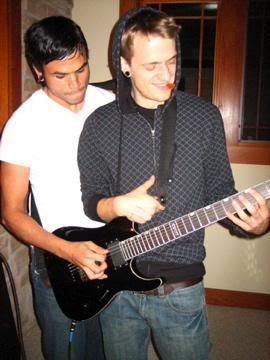 RIP pretty long ladyhair. :(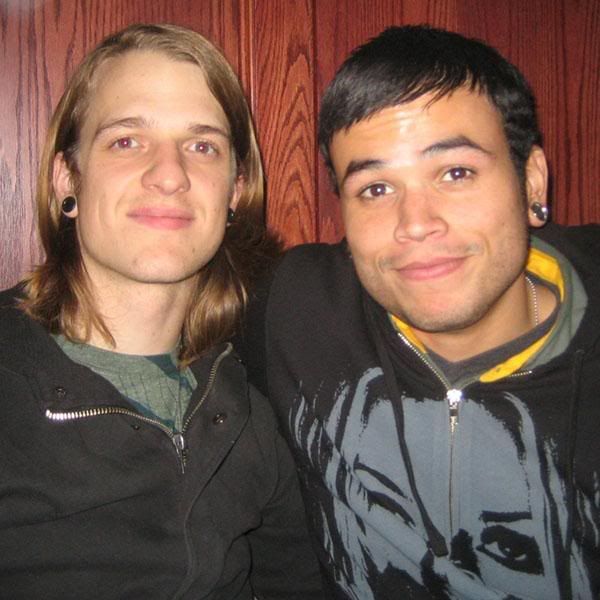 --------------
Stu Ross (aka: Rossman):
Currently guitarist for Misery Signals.
On Myspace
.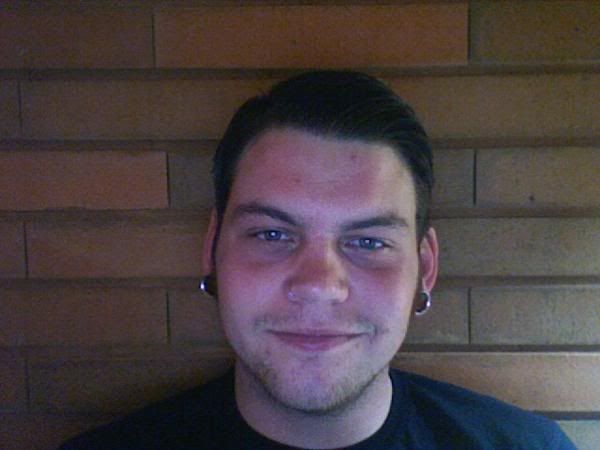 On stage with Misery Signals.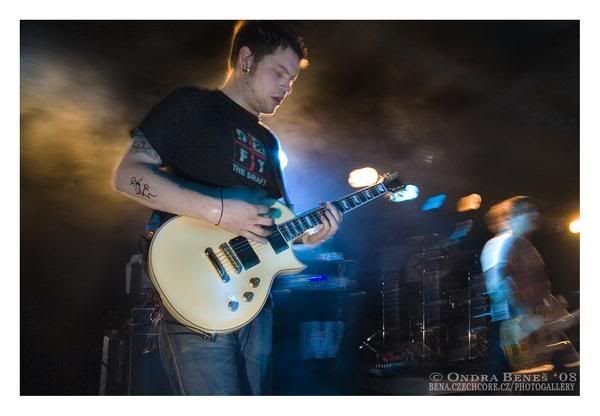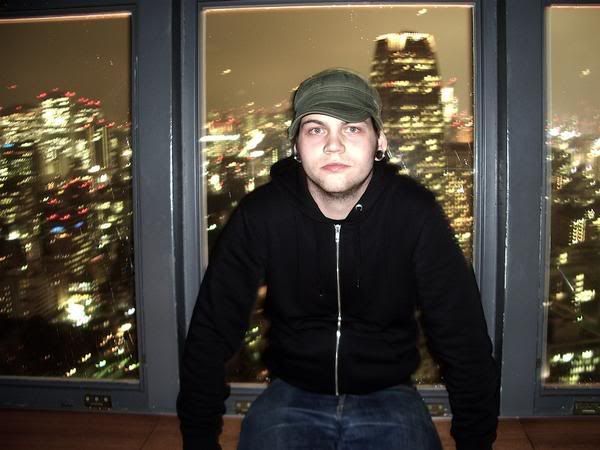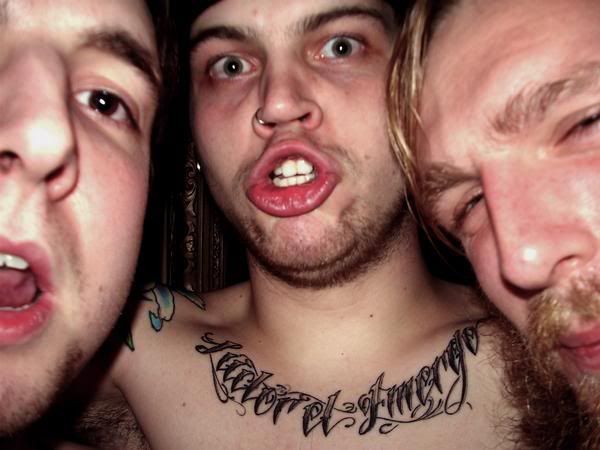 --------------
Kyle Johnson (aka: Johnson, Kage):
Currently bassist for Misery Signals. Personal motto: "I live life exactly the way I want."
On Myspace
.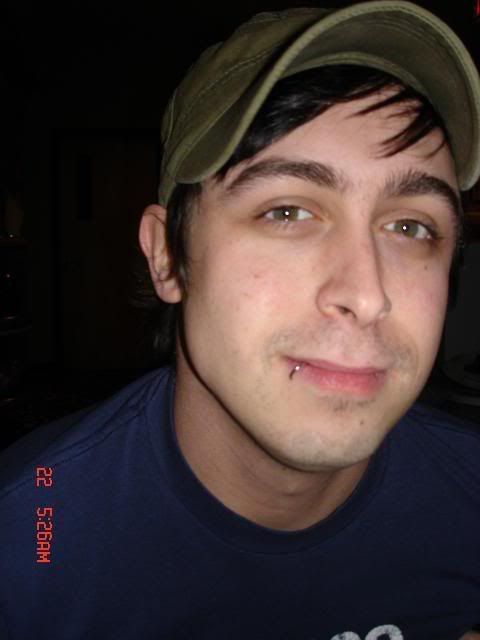 On stage with Misery Signals.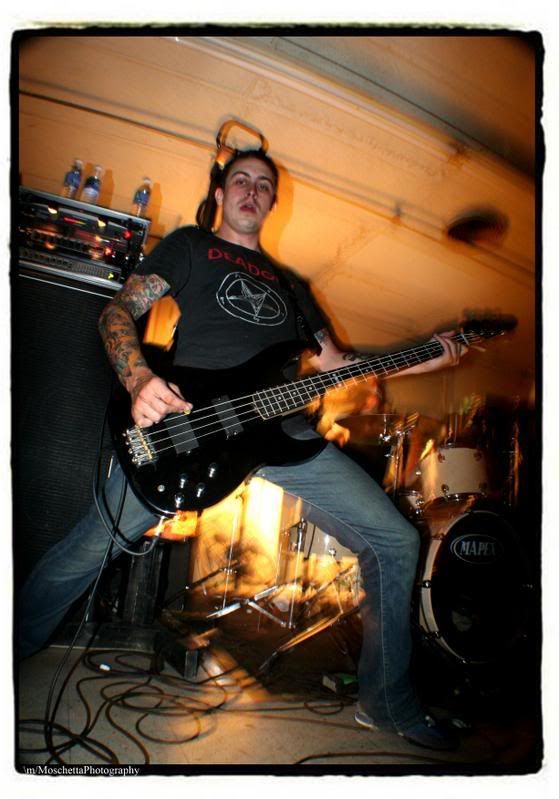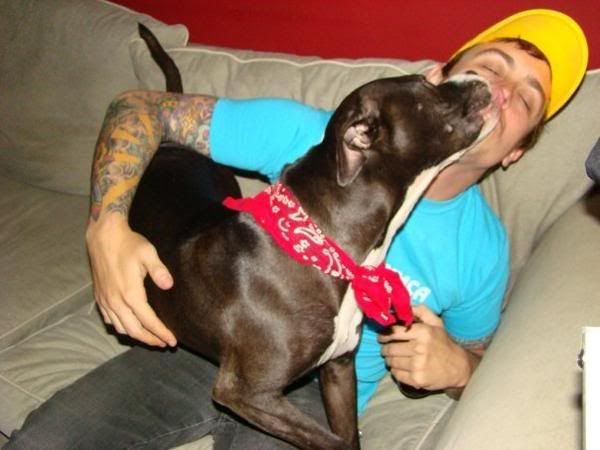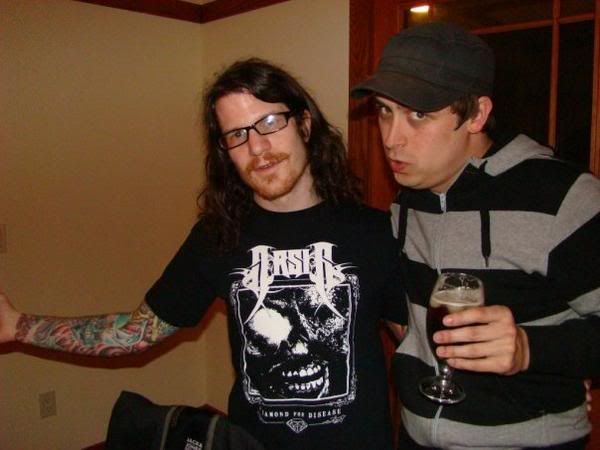 --------------
Various and Sundry Others:
As with most crews, there is a huge extended network of friends that come along with it. Here are some pics of the people who show up most often at Fuck City.
Tyler:
Formerly part of the 7A7P road crew. Now a personal trainer. He sometimes tours with Andy to keep him company and help with his training on the road. He most notably joined him on the Honda Civic Tour. You can see him in the backstage footage of the
Fall Out Boy: Live in Phoenix
DVD.
With Matt: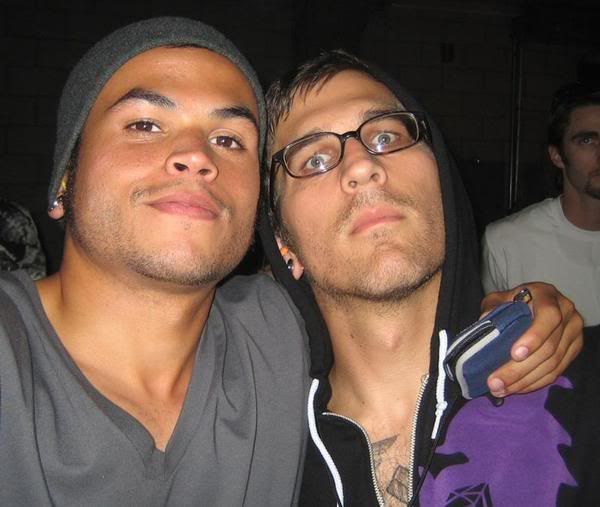 With Matt, Andy, and nudity!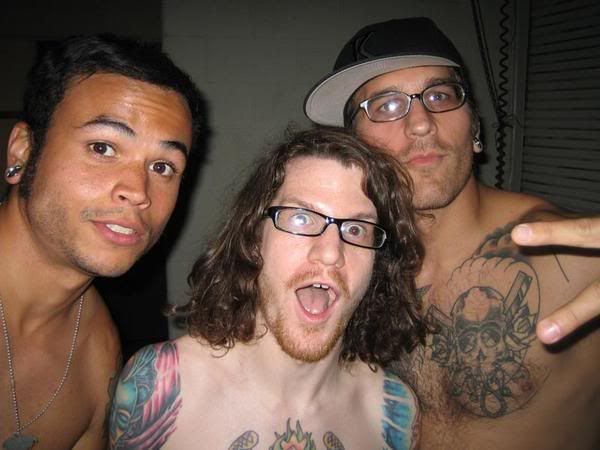 With...Ashlee and Vicky-T? O.o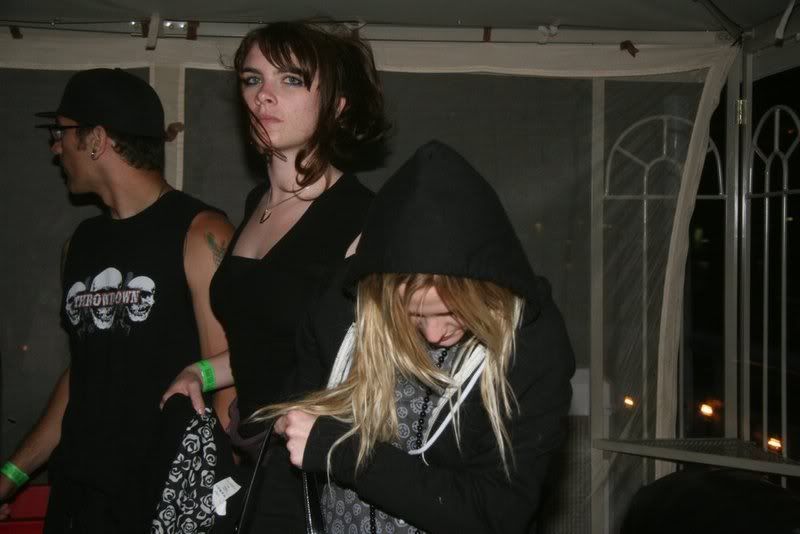 --------------
Max Percy (aka: Maximum Percy, Maxamillions, Mr. Chainsaw):
Good friend to fuck city. Not sure of his occupation, but he seems to hang around a lot. Likes to party! Heavy and hilarious drinker.
He accompanied Matt to the 2007 VMAs, where they both crashed the FOE suite: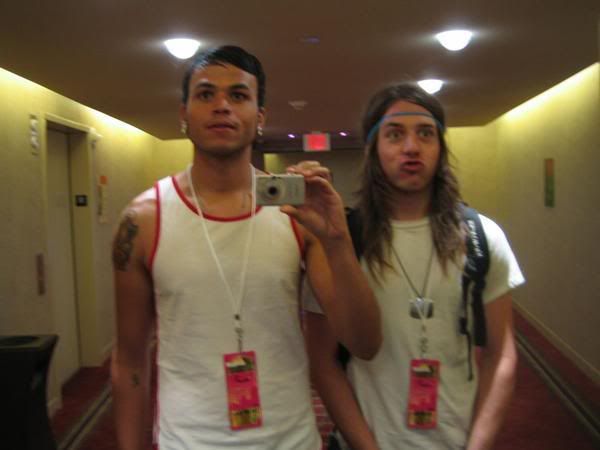 VMA after-party. LOL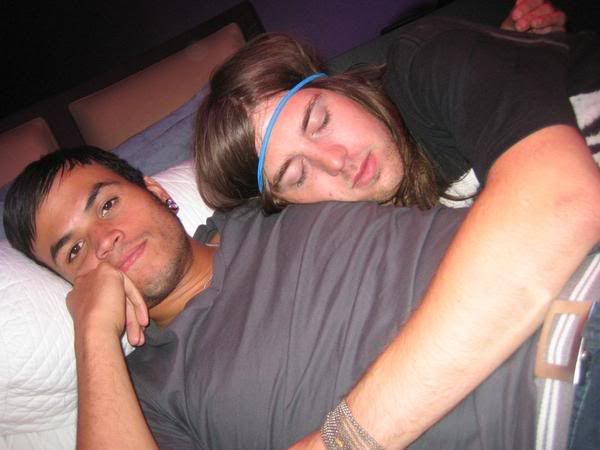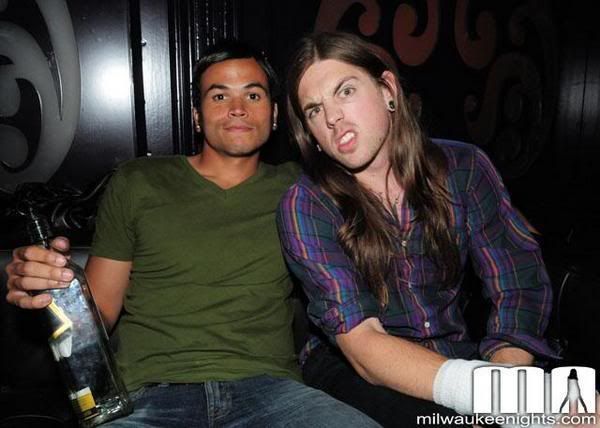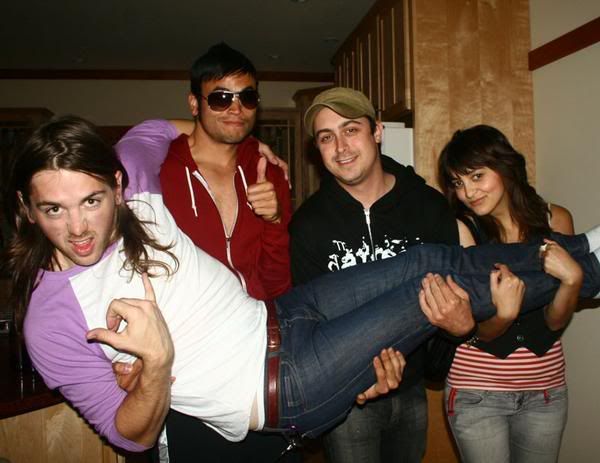 --------------
Brendon Morgan:
Ryan's older brother (together he and Ryan are The Brothers Golden). Currently drummer for Misery Signals.
On the left, here: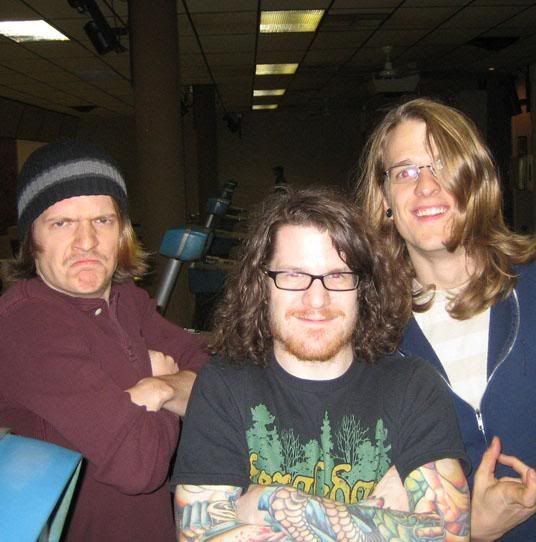 -------------------------------------------------------------
Fuck City: A Brief History
True to its nature, Fuck City has transcended location, but it's always consisted of the same tight group of friends. Matt has
a pic album
on his public Myspace that has a ton of images from his teen years in various inter-related hardcore bands around the Milwaukee/Chicago scene. This is where all the guys met and remained close friends.
Ryan, Kyle, and Matt were in
7 Angels 7 Plagues
together, while Andy was in Killtheslavemaster with Karl Schubach. Tyler was a part of their tour crew. They played shows together. When both bands fell apart, Karl, Ryan and Kyle joined up to form
Misery Signals
, a progressive/post-hardcore band which is still touring regularly.
7A7P and crew after a rough show.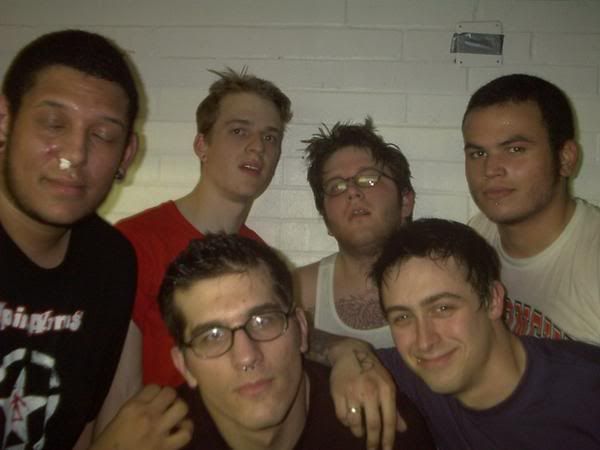 It wasn't until Fall Out Boy brought Andy a certain measure of success that they all moved in together, first into Andy's large apartment and then later into his house when he bought it a few years ago.
Here are a few pics from FC v1.0:
2002 featuring old-school Hurley hair.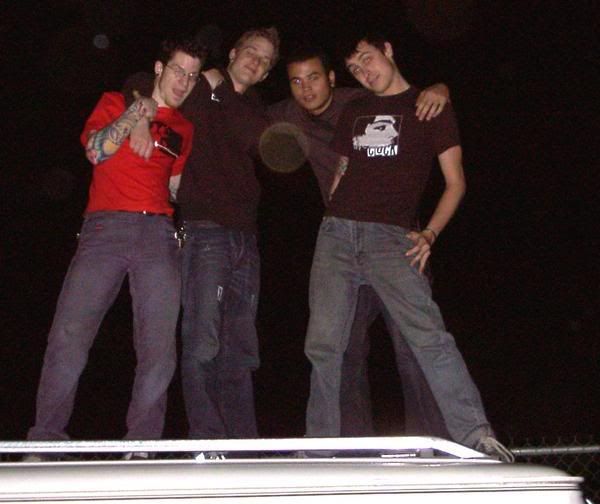 In the old apartment. With a fruit.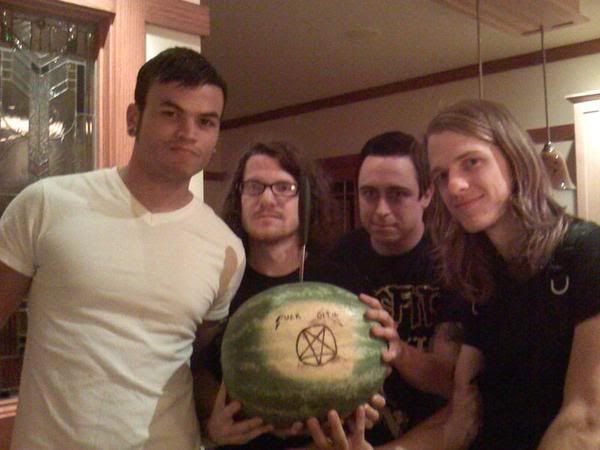 When Andy bought his spiffy new house, Matt moved in with him. The other guys followed when touring difficulties ran their band into rough straits for a little while. (Misery Signals thanks Andy on their newest record for helping them keep themselves together during the rough and lengthy recording period.)
The Fuck City clothing line was launched a few months ago, as well as plans announced for a record label imprint. The members of Fuck City formed a side-project band, leaving a few demos up on Myspace under the name
The Departed
(now formerly known as due to copyright issues).
-------------------------------------------------------------
Picspam Time!
And now I will bombard you with many amusing pictures of Fuck City Shenanigans, complete with half-assed commentary. Woo!
To set the stage, this is Fuck City,the building:
The back of the house. Fancy!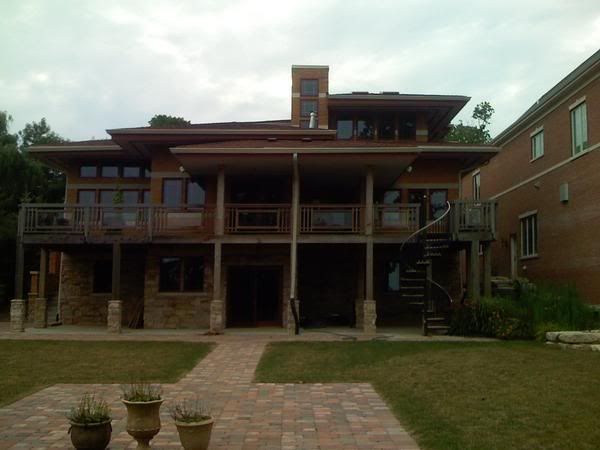 The back yard (aka Lake Michigan).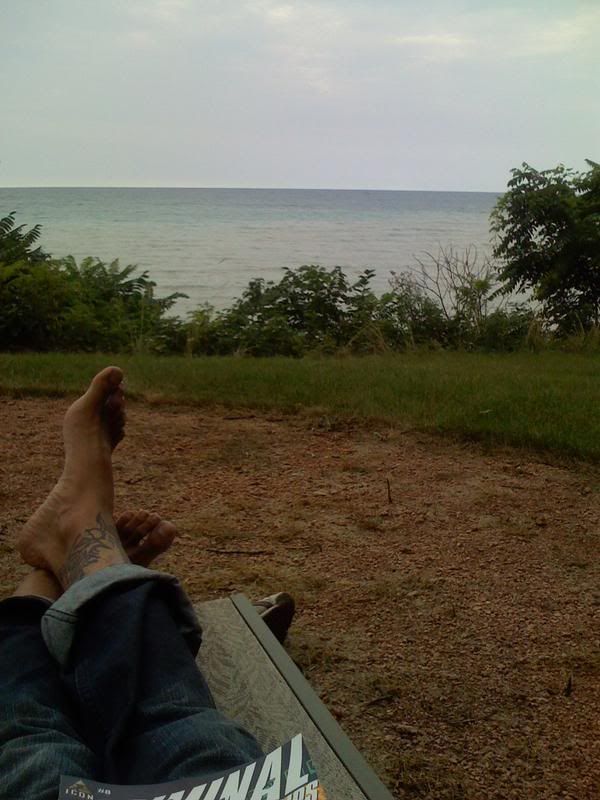 What do the Fuck City guys do in the spare time, you ask? Why, they do manly sorts of things like...
Barbequeing!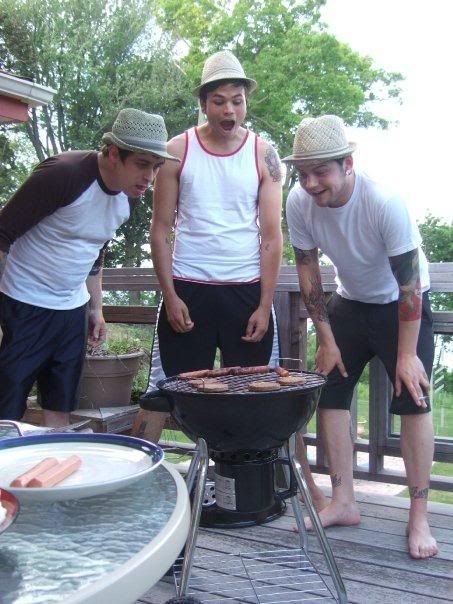 Rock band!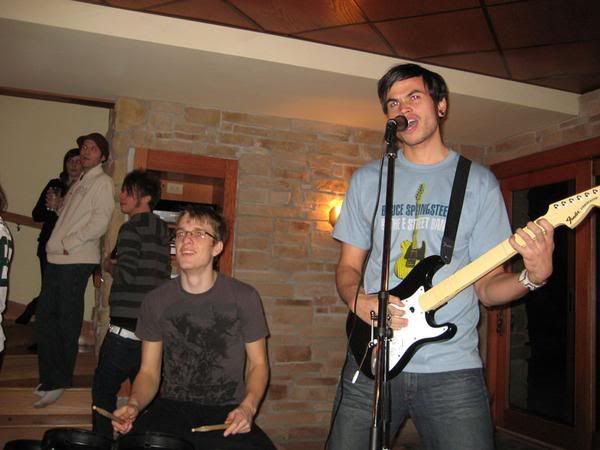 Going to football games! (A LOT of football games. They like the Packers. Can you tell?)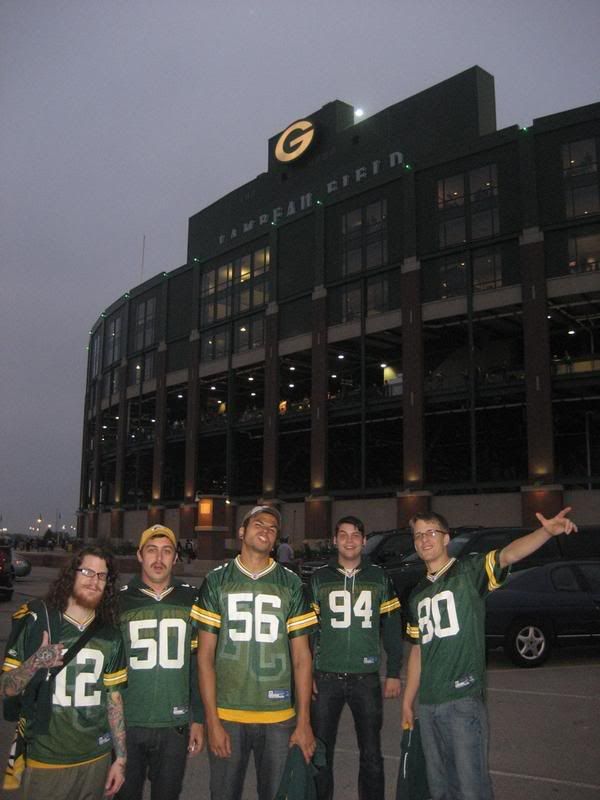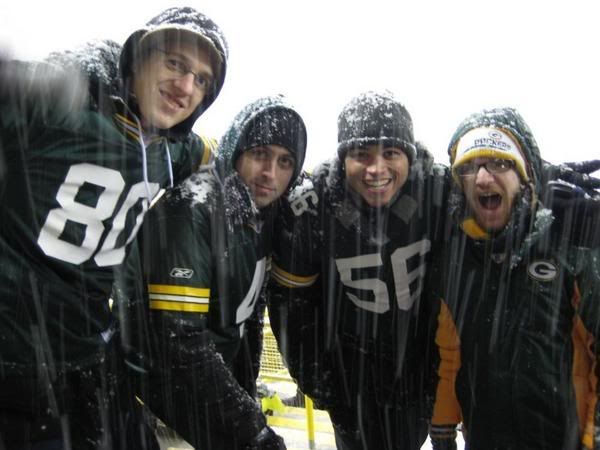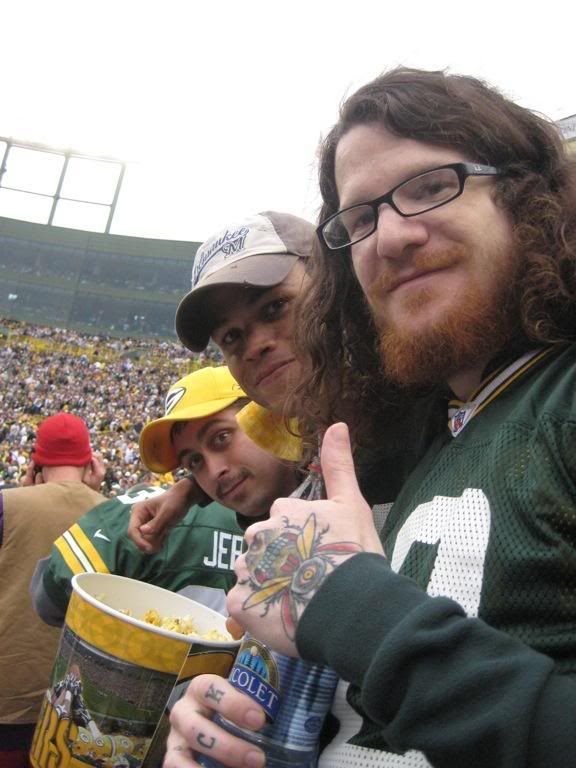 And playing football games!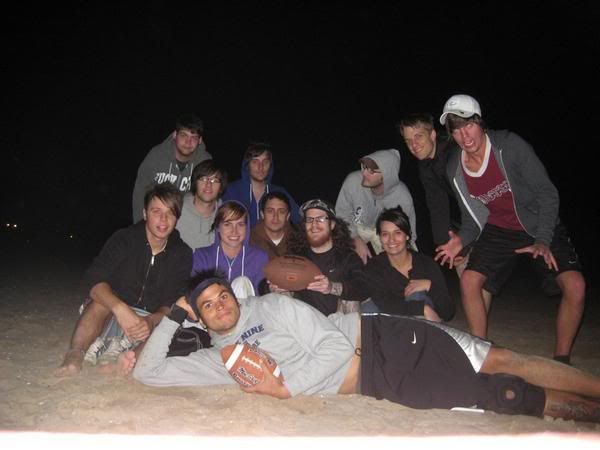 Mud-wrestling! No, really....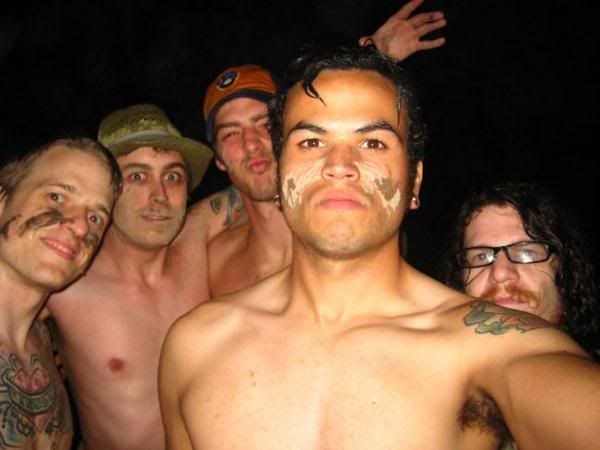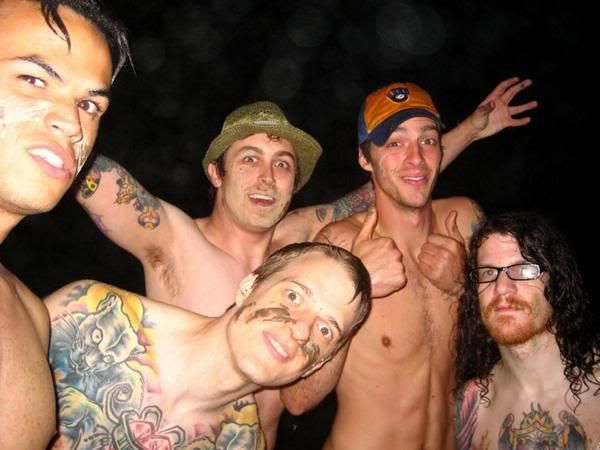 And back yard wrestling, too!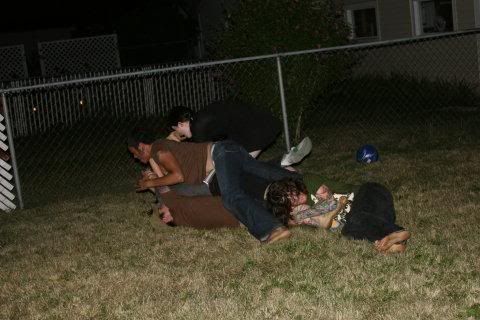 Um. Yeah. That's very...manly.
Moving on! To Karaoke!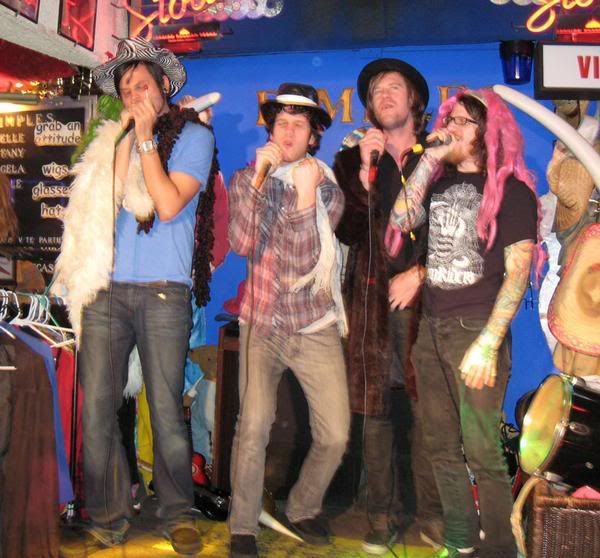 And partying with porn stars!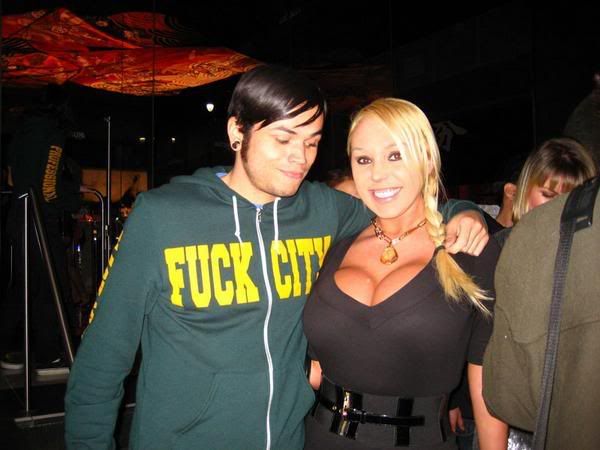 AHAHAHAHAHAHAHAHAHAH ilumareycarey
And now, more random shenanigans!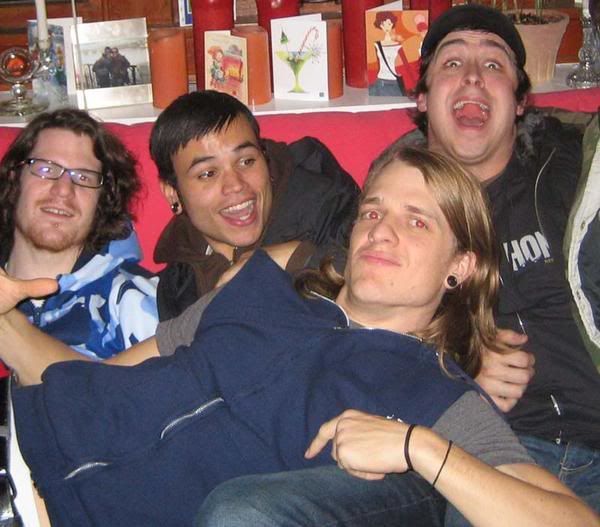 LOL. Nicknames.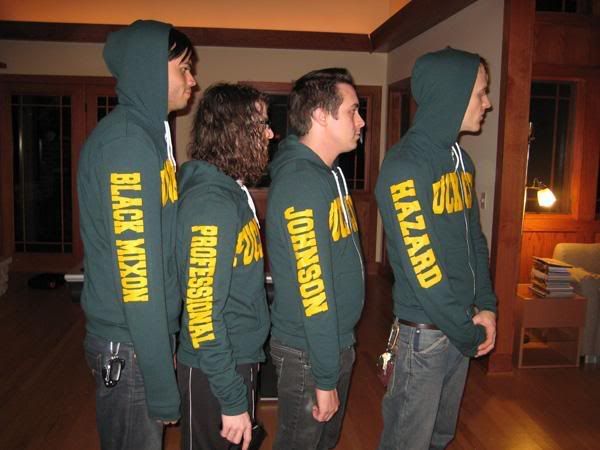 Just like every happy suburban nuclear family. Really.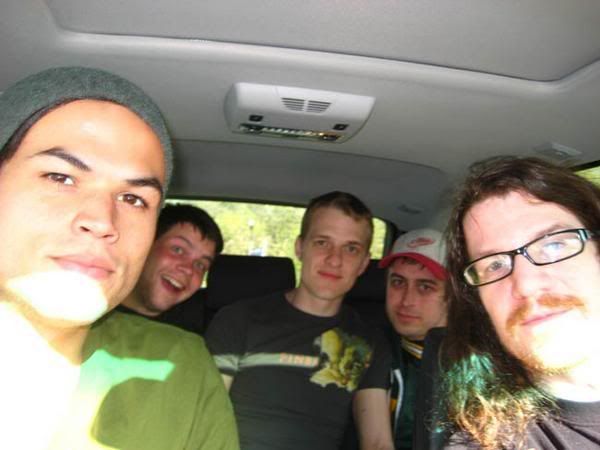 At the beach.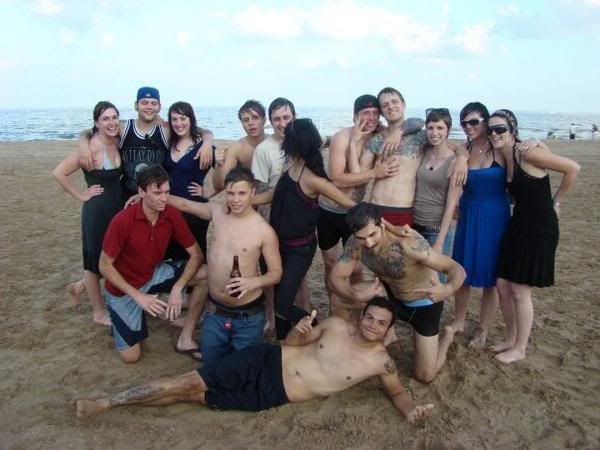 In their natural habitat: partying down.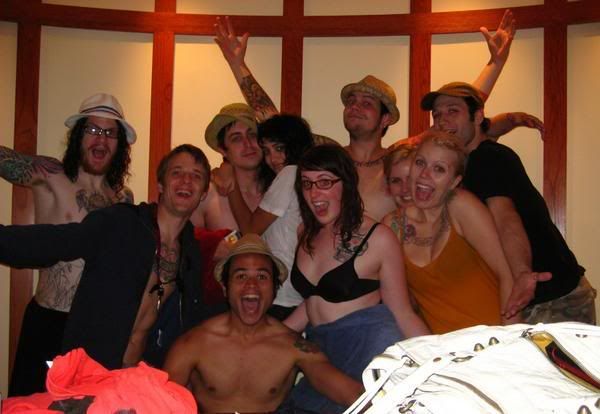 -------------------------------------------------------------
Videos!
Finally, here are a few videos from
Matt's Youtube
and the FC Myspace:
Fuck City Presents Episode 1: Nerf Roulette
Fuck City Presents Episode 2: Guitar Shenanigans
Mixon Shot Parade (That better be fruit juice, Hurley! LOL)
-------------------------------------------------------------
Hope that was informative! If you liked it and see people asking who a member of the FC Crew is on FOB news journals and such, link them here!